We lovingly and very specifically choose each ingredient for what it does for your skin (on your face and your body) as well as how it combines and even improves the action of the other ingredients in the soap.
We've included Apricot Kernel Oil in our Mother's Recipe soap, which is a basic all-over cleanser, to replenish and maintain your skin's natural moisture barrier.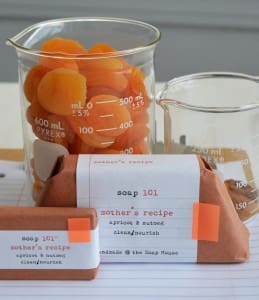 Scientifically speaking, that barrier is what is called skin's "acid mantle", and essential fatty acids have been found to be effective both when consumed as part of your balanced diet and when applied topically to your skin.
You'll know when your skin's acid mantle is out of balance because skin feels tight, dry and irritated. Other soaps can make skin feel this way after it's just washed and worse, over time.
That's why we added the essential fatty acids in Apricot Kernel Oil: to help restore the moisture barrier, so your skin feels just right, no matter what. With vitamins A, C and E, Apricot Kernel Oil soothes damaged or irritated skin. What's more, this golden oil is gentle enough for the most sensitive skin.
So skin feels just right, no matter what.
How does your skin feel after it's just-washed?