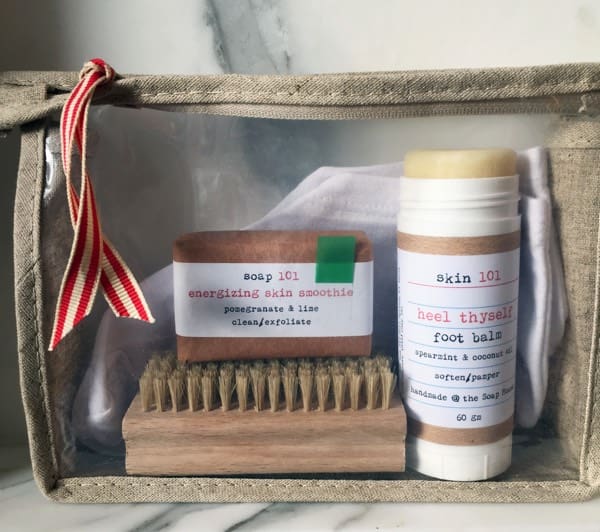 Who doesn't love having their feet pampered? If there's a bit of reflexology and aromatherapy going on behind the scenes, all the better.
Our new foot balm combines the most healing, softening substances known to science, including shea butter, beeswax and jojoba oil to restore your hardworking, speed-walking, long-standing feet and help them shed that rough and dry or cracked appearance. We've added freshening spearmint, tangerine, lavender, basil and sage essential oils to cool, soothe and refresh body and spirit. Just as important, each of these Ingredients has been shown to have antifungal and antibacterial benefits as well.
To give you the full spa experience, our foot-saving kit includes a wood and boar brush to clean the nails and gently exfoliate, leaving behind clean, soft, radiant skin. After applying the foot balm, slip on the enclosed cotton socks to hydrate, and sleep while our emollients and essential oils do the work of calming and smoothing overnight.
When it's time for those tootsies to make an appearance, they'll step lightly, looking smooth, soft, and healthy, no matter how hard you've worked them.
Kit contains a 60gm application stick of heel thyself, a bar of our energizing skin smoothie soap, a set of unisex white cotton socks, an all-natural brush and a cosmetic bag.
spearmint &
coconut oil
organic ingredients:
spearmint oil, coconut oil, beeswax, cocoa butter, sunflower oil, castor oil, shea butter, jojoba oil, soy lecithin, wildflower honey, tangerine oil, bulgarian lavender oil, vitamin E, bee resin, sweet basil oil, sage oil.